Seeing adults wearing braces was once a rarity but it's safe to say those days are over. Adult orthodontics has exploded across the UK, with more and more adults looking to improve the alignment and appearance of their smiles through the use of adult braces.
However, many adults are still out off by the thought of wearing traditional metal braces for potentially up to 24 months. With all the work commitments, social activities and family time most adults have to juggle, wearing unsightly metal braces is not an attractive option.
Thankfully, adult orthodontics has expanded its scope exponentially over the last decade and there are now many different choices of adult braces.
In this article, we'll look at some of the most popular types of adult braces and delve into important points around adult brace procedures, treatment times and costs.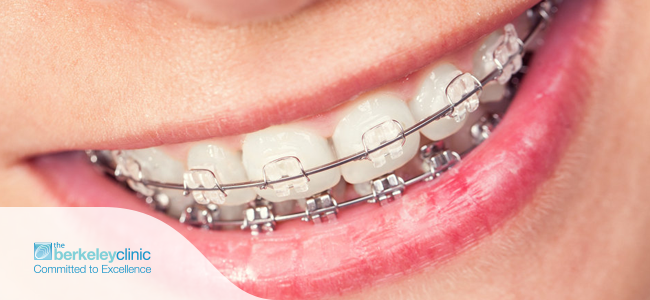 Types of Adult braces
Adults looking to straighten their teeth now have a range of options to choose from. But with so many different types of adult dental braces on the market, how can you decide which one is best for you?
Each type of adult brace has its own advantages and disadvantages. One that is right for you might not be right for someone else. A lot comes down to lifestyle, cost and the current condition of your teeth.
We've listed the most common types of adult braces below to give a better understand of the adult orthodontic solutions that are available.
Traditional metal braces
Traditional metal braces are what most of us automatically think of when we speak about braces. If you wore braces as a teen or young adult, it's very likely that you were fitted with a traditional, metal "train track" brace.
These were made of wires attached to single brackets cemented onto the front of each tooth. Elastic bands are placed at the back of the mouth to tighten or loosen the wires as needed.
Although these braces are highly effective and can have relatively short treatment times (anywhere from 6-24 months, depending on individual circumstances), they are by far the most notable type of braces. To hold combat this, adults can now have traditional braces fitted with clear brackets and wiring and although this makes them less noticeable, they are by no means discreet or invisible.
Many adults prefer not to opt for traditional braces as they feel too self-conscious wearing them, citing that they are too obvious, too intrusive and are not suitable for their adult lifestyle.
Lingual braces
You may not have heard of lingual braces. They are similar to traditional metal braces but the brackets are placed on the back side of each tooth to give a more subtle and discreet look.
This makes Lingual braces virtually invisible when in the mouth but just as effective as traditional train track braces. Treatment times are much the same; however, the cost of lingual braces for adults tends to be higher due to their discreet nature and the fact that they must be custom made for each patient.
Clear aligners
Clear aligner braces have quickly become the most popular and sought-after option for adults wanting to straighten their teeth.
Aligners are fully removable, which gives many adults the flexibility that they are looking for. Aligners are also far less noticeable in the mouth, with many brands marketing themselves as "virtually invisible". Patients can (and should) remove their aligners whilst eating, drinking, flossing and brushing, however, your dentist will let you know how many hours a day the aligners should be worn (this can often be up to 22 hours).
Patients who choose clear aligners as their teeth straightening solution will be given a set of aligner trays that are switched out every 2-4 weeks so that over time their teeth and mouth slowly move into the desired position. The number of aligners received will depend on the aligner brand, the current alignment of the patient's teeth and the specific treatment plan.
The two most popular brands of clear aligners are Clear Correct and Invisalign, both of which are offered here at The Berkeley Clinic in Glasgow.
Invisalign braces for adults
Invisalign is one of the most well-known and established providers of clear aligners. They offer a set of custom-made clear aligners that patients progress through over the course of many months to form a straight, perfect smile.
Invisalign offers a range of treatment programs based on your needs, the condition of your teeth and mouth and your budget. Our dentists here at The Berkeley Clinic will be happy to talk you through all the Invisalign options in more detail and help you decide on the best treatment course for you.
The treatment time and cost of Invisalign will vary from patient to patient and depends heavily on the type of Invisalign treatment you choose.
Find out more about the world-leading Invisalign treatment offered at The Berkeley Clinic in Glasgow via our website or by getting in contact with us directly.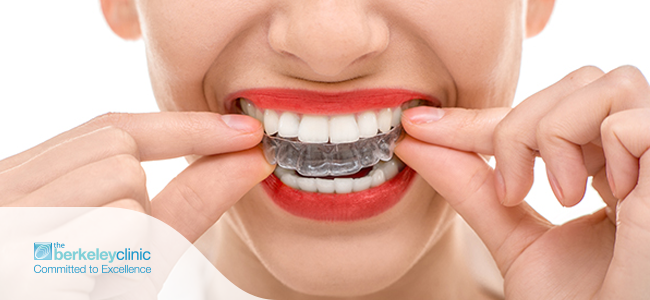 Clear Correct braces for adults
Clear Correct is another brand leader in the world of adult orthodontics and clear aligners. In a similar fashion to Invisalign, Clear Correct provides patients with a set of clear aligners that are to be progressed through resulting in a beautiful, straight smile. 
Clear Correct markets itself as a fuss-free, high impact solution to straightening teeth as an adult. The advantages of using Clear Correct are:
Fully removeable
Quick treatment times
Stain resistant
Comfortable to wear
Highly-effective results
Clear Correct treatment tends to be more expensive than Invisalign and other types of adult braces, but a lot will depend on the course of treatment you choose and the number of aligners needed to form a perfectly straight smile.
To find out more about the Clear Correct options available at The Berkeley Clinic, don't hesitate to give us a call on 0141 564 1900.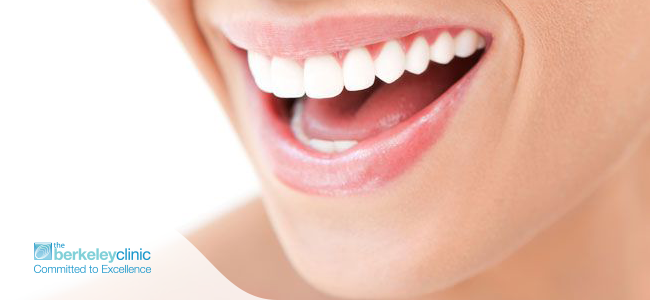 The procedure for dental braces
The dental brace procedure will vary slightly depending on the type of adult braces you opt for.
Traditional braces will of course involve a surgical appointment so that the braces can be fixed to the teeth. Patients will then have to check in with their orthodontist every two months to have the braces tightened and checked.
For adults who choose clear aligners, initial impressions will need to be taken to ensure the aligners fit in the mouth accurately and comfortably. This could take up to two visits to ensure the patient is happy with the fit and feel of the aligners.
After this, patients will be asked to come in every two to three months to collect their next set of aligners and check that the treatment is working as planned. These regular appointments also give patients a chance to ask any questions and deal with any issues that may have arisen during the course of treatment.
Every patient interested in receiving braces for adults will need to come into our clinic for an initial consultation and assessment. This will help inform the rest of the treatment going forward. If you're interested in adult braces, give us a call on 0141 564 1900 to get the process underway.
Cost of braces for adults
Unfortunately for adults wanting to straighten their teeth later in life, adult braces are not available on the NHS.
The cost of adult braces varies depending on the type and brand you choose. Traditional meta braces tend to be the cheapest option, whereas clear aligner options such as Invisalign and Clear Correct are towards the higher end of the market.
At The Berkeley Clinic, we have a range of dental finance plans to help make adult orthodontic treatment more manageable.
Berkeley patients can also save money by signing up for our Dental Membership Plans, with great savings, high discounts and an expert level of dental care all on offer with all our membership plans.
How to choose the right type of braces
Choosing the right type of adult braces for your mouth and situation can be tricky. With so many options available along with the considerations of cost, treatment time and appearance, patients can feel overwhelmed when trying to decide on adult dental braces.
Our number one recommendation is to talk through your options with a professional dentist. They will be able to provide an accurate assessment of your mouth and let you know what options will be best suited to your teeth. They can also advise you on treatment time, the cost of adult braces and available finance options.
To book an initial consultation to discuss getting adult braces, get in touch with The Berkeley Clinic today.
Tags: clear aligners, Invisible Braces, orthodontic treatment