Considerations To Make Before Getting Semi Permanent Enhancements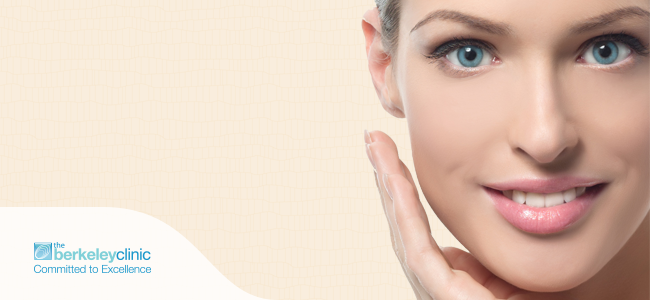 Semi-Permanent makeup is one of the fastest growing procedures in the beauty industry, and is becoming increasingly popular across a diverse range of demographics.
Semi-Permanent makeup procedures can benefit anyone who feels self-conscious about their appearance by offering a lasting solution that will keep you looking healthy and attractive at all times. Today's lifestyles have become increasingly fast-paced and demanding and we live in an age where quick-fixes are favoured by many. As such, semi-permanent makeup 'artists' have popped up all over the country making it increasingly confusing trying to find a qualified artist that is right for you. It is vital that if you are considering micro-pigmentation (semi-permanent make-up) you obtain a good degree of knowledge about the process before going ahead and booking an appointment.
What are the Different types of Semi-Permanent Makeup Available?
Semi-Permanent makeup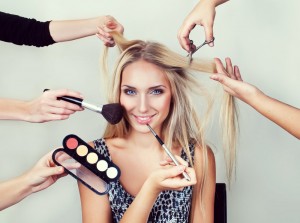 procedures can be applied to improve your appearance in a number of different ways. Popular procedures include:
Eyebrow Tattoos:
Eyebrow tattoos allow women and men to have neatly constructed eyebrows which improve appearance and direct attention to the natural beauty of the eyes.
Lip Enhancements:
Lip augmentations can help to improve the definition and fullness of lips so that the face can adopt a more attractive shape. This process involves the injection of dermal fillers made directly into the lips and the immediate surrounding area of the mouth.
Permanent Eyeliner & Lash Enhancement:
Permanent Eyeliner and lash enhancement treatments offer a smudge-free solution and a way to have bolder or more defined eyes. The treatments may be beneficial for you if you: lack time to put on makeup every morning; suffer from watery eyes or oily eye-lids or; have allergies to conventional makeup. These procedures can also boost your confidence at the pool or beach without having to worry about makeup running or smudging.
It is also possible to disguise scars and birth marks using semi-permananet makeup techniques.
What Should You Consider Before Booking a Semi-Permanent Makeup Procedure?
If any of the above treatments sound like something you might be interested in, then finding a semi-permanent cosmetics technician that you can trust, depend on, and feel comfortable with is absolutely essential. There are a series of steps that you can take in order to deduce whether a potential semi-permanent cosmetics technician is a suitable candidate:
Talk to Them
Have an in-depth conversation about any potential treatments with a semi-permanent cosmetics technician before you proceed. Any worthy technician will be willing to put time aside to carefully explain what every procedure will involve, what you can expect in the following weeks, the after care available and whether it is the right decision for you. If you don't feel comfortable in the presence of this technician – even if it's just a gut feeling – then in it is in your best interests to look elsewhere. You must feel as though you can trust the technician as much as you would trust your general physician or dentist.
Inspect the Clinic
When you go to make an inquiry about semi-permanent cosmetics treatment, you should carefully inspect the condition of the clinic. Is everything clean, neat and tidy? How much equipment is available? Also make sure to reinforce your opinion by consulting online reviews on the web written by legitimate customers who have visited this particular location and have received treatment themselves.
Check their Qualifications
The semi-permanent cosmetics industry is continually developing, and many new technicians have recently joined the industry. It is important to find a technician who has a wealth of experience under their belt and is willing to show off their vast range of qualifications. Certain treatments require particular qualifications, so make sure that the technician you're conversing with is properly trained in the type of treatment you're looking to receive.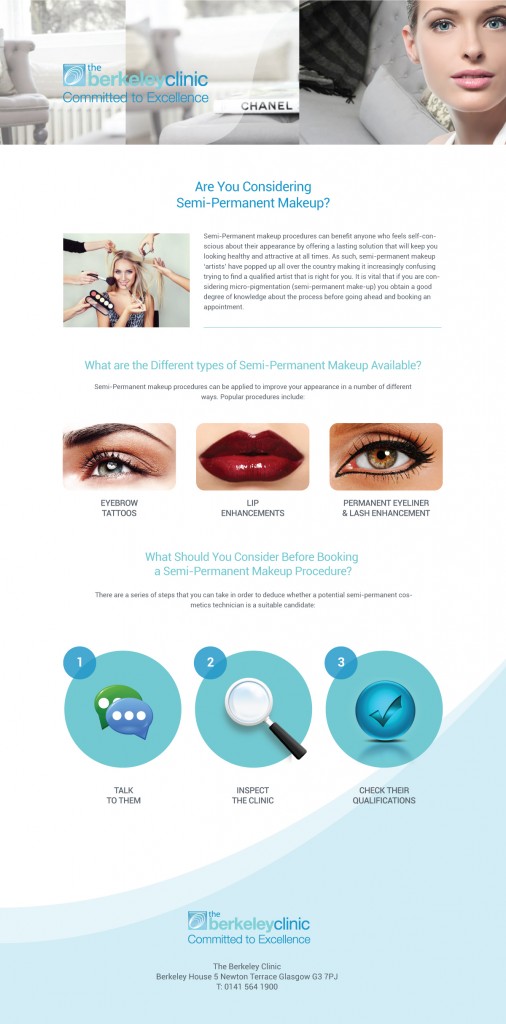 Semi-Permanent Makeup at The Berkeley Clinic
The Berkeley Clinic in Glasgow offer a range of aesthetic treatments that can help enhance your natural beauty. Jillian Sharp began working with The Berkeley Clinic last year and is a professional makeup artist and a permanent makeup technician who has been working in the industry for over 20 years. If you would like more information about semi-permanent makeup contact us today on 0141 564 1900 to discuss your query or make an appointment with Jillian.