Are Dental Implants Safe?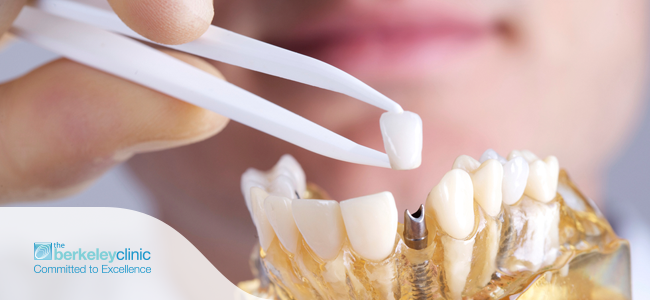 Are you considering Dental Implants? Great! Dental Implants are a great option for some patients as there are lots of benefits of having dental implants. 10,000 people have lower jaw dental implant procedures in the UK alone, each year and this long-term treatment is growing in popularity.
Still haven't made your mind up yet? Let's have a look at what tooth implants can do for you.
What Are Dental Implants?
A dental implant is simply a root which is made from titanium metal. Once the root is inserted into your jawbone, it will replace your natural tooth's root.
After this has healed a replacement tooth is then fitted to the implant. The implant acts as an anchor to hold the replacement tooth in place.
Why choose Dental Implants?
If you are having tooth implants fitted they should look as natural as possible to recreate the look of your natural smile. Dental implants have completely changed how we treat our teeth. Other traditional methods, such as bridges, partials and dentures, do not preserve bone like dental implants do.
If you are replacing missing teeth with a fixed bridge, your dentist must grind down the adjacent teeth to fit the bridge. A space is created by the removal and a bridge of three fused crowns is slotted in to it. This causes severe damage to the adjacent teeth which could start to deteriorate as the missing tooth root is not replaced.
This is also the case for detachable partials and dentures which cause further bone deterioration. The may happen because they have been fitted poorly. Dentures also cause users multiple problems which can affect their quality of life. In some cases, patients who have badly fitted dentures choose not to socialise as they suffer from constant denture sores and un-comfort which can lead to anxiety.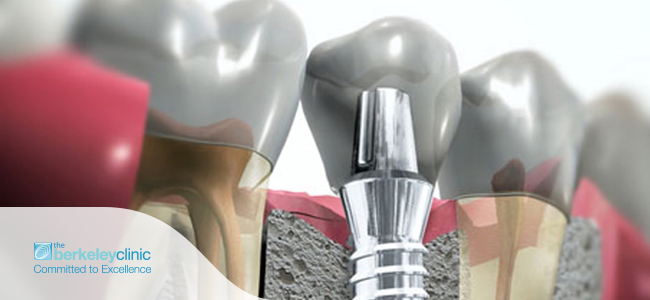 Dental Implant Consultation Glasgow
What can a dentist in Glasgow Berkeley Clinic do for you? Firstly let's look at what your dental implant consultation will include at our dental practice Glasgow
You will be treated at the award winning Berkeley Clinic
You will be assessed and have a 3D digital X ray scan
An Oral dental assessment.
A Preliminary report will be completed by our professional team
We are leaders in digital dentistry and you will be in the best hands technically and professionally.
Benefits of Dental Implants Glasgow
In comparison to traditional dentures there are lots of benefits of wearing dental implants. As dental implants are fitted to your mouth they make a comfortable fit which will be convenient to your lifestyle.
Dental implants look and feel just the same as your own teeth, except they are brand new!
Depending on the condition of your original teeth they could improve your speech
Fitted to your mouth by your dentist they won't feel much different to your own teeth
It is easy to eat with dental implants
They look great, fresh and clean!
Your oral health will be improved by having teeth implants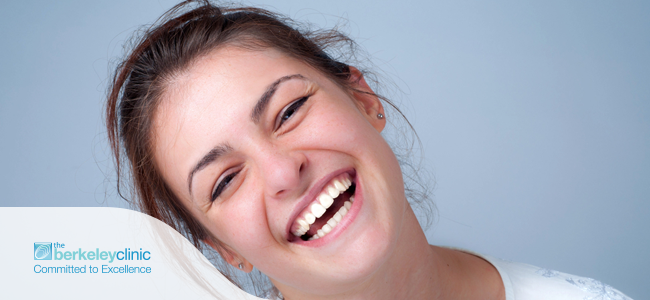 Are Dental Implants Safe?
Completely! It is important however that you attend a professional dental clinic for any dental procedure. Dental implant is a safe procedure that has been used since the early 1960's to replace missing teeth.
Dental implants are one of the most tested and modernised form of dentistry with great results. The advanced treatment Berkeley Clinic in Glasgow provides is a reliable, long-term solution for patients struggling with missing or diseased teeth. If you look after your dental implants they could last you a lifetime. Research shows that when placed well and looked after placement, 95% of the time they will last you for decades.
Tooth Implants Glasgow
Considering getting your dental implants in Glasgow? At Berkeley Clinic Glasgow we provide quality dental service to every patient that walks through the door. We would be more than happy to discuss your options with you over the phone today!
If you would like to book a consultation for dental implants, book your appointment today and start smiling with confidence from only £99!
Tags: dental bridge vs implant, Dental Implant, dental implant bridge, dental implant clinic, Dental Implant consultation, dental implant cost, dental implant specialist, Dental Implant Treatment, dental implants Glasgow, single tooth implant, teeth implants inverness, tooth implant inverness, tooth implant process, tooth implant surgery