Private Dentist of the year 2010
Dr Jamie Newlands scoops runner up, Private Dentist of the year 2010 title.
This glitzy 'Private Dentistry Awards' ceremony in London brought together some of Britain's top dental practices to award their success and achievements over the past year.
These prestigious awards are home to some of the UK's biggest categories of talent. Dr Jamie Newlands is delighted to have been short-listed for this category and over the moon to have won runner up.
With exciting plans to expand the Berkeley family we have no doubts that Jamie will win the title next year. Jamie says "I could not have done this without my fantastic team". Dr Mike Gow also shortlisted in this category says "I am really happy for Jamie and as he said," we are all a team her at the Berkeley Clinic".
Call today to meet our care team in Glasgow on – 0141 564 1900 for details on cosmetic dentistry and aesthetic treatments.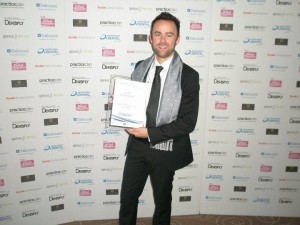 Tags: aesthetic treatments, cosmetic dentistry glasgow, dental hygiene awards, dental industry awards, Dentist of the Year, hungarian dental awards, scottish dental awards, scottish dental awards 2010, the dental awards 2010, what does the dentist of the year get, young dentist of the year