Invest In Your Smile & Your Confidence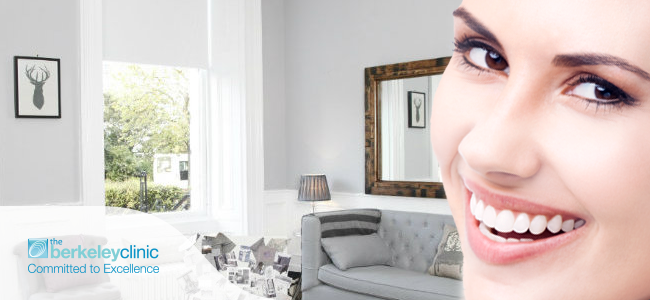 Do you suffer from low self-esteem as a result of crooked, damaged or poorly placed teeth? Are your teeth discolouring and losing their natural shine? Are you dreaming of a whiter and more beautiful smile? Then cosmetic dentistry is exactly what you need. Berkeley Clinic is a cosmetic dentist in Glasgow that offers a wide variety of quality dental treatments both cosmetic and surgical that can help you change your life and improve your self-esteem. Our award winning team of dentists can provide quality dental treatments which include teeth straightening, teeth whitening, and procedure such as ceramic veneers, ceramic crowns and dental implants fitting.
Teeth straightening
Through our Six Month Smiles treatment you can get straightened and beautiful teeth and a healthy smile in just 6 months. The procedure we use can substitute traditional metal braces with cosmetic clear braces that are suitable for mild teeth straightening. The Six Month Smiles orthodontics are practically invisible, which means you do not need to be self-conscious while wearing them.

How does it work?
The Six Month Smiles is an innovative system that straightens your teeth gradually over a six month period. The procedure employs high tech nickel titanium wires that apply minimal force on your teeth and are invisible when you smile. As with traditional braces you will need to wear a retainer to ensure that your teeth remain straight. The Six Month Smiles clear orthodontics are available for upper and lower teeth. They are hygienic, light and generally less expensive than standard wire braces. It should be noted that this is a cosmetic procedure and cannot be used to correct the position of your bite.
Teeth whitening
Another very popular service at Berkeley is teeth whitening Glasgow. We offer an effective, safe, and painless teeth whitening procedure as part of our cosmetic dentistry Glasgow services. Through this procedure our experienced, award-winning team can provide gentle polishing and whitening giving you the shiny smile you have always wanted. You will also be provided with a complementary personalised teeth whitening kit, prepared in our 4D Dental Laboratory. The kit includes custom made trays and innovative teeth whitening gel, which can help you preserve the results of the procedure for longer. You will also receive professional advice and guidance on how to use the kit safely at home.
How does it work?
The teeth whitening procedure carried out at Berkeley Dentistry Clinic Glasgow takes around an hour. First your teeth will be examined by our professional dentists, who will then decide what is the best option for you. In some cases teeth whitening procedures might not be as effective as desired and then other options will be recommended to you. The procedure will involve a few simple steps. First a light-cured protective layer is painted on your gums to protect them from irritation. After that bleaching is applied. The most commonly used types of bleaching are light-accelerated and internal bleaching. The light-accelerated bleaching is very common in cosmetic dentistry and uses UV light to speed up the process of bleaching. It takes about 30 minutes to an hour during which you can watch a DVD or listen to music. The second type is internal bleaching, which is usually performed on teeth that have undergone serious procedures, like root canal treatment. It should be noted that compared to other methods of teeth whitening, professional teeth whitening performed in a dentist office is more effective and lasts longer. You will also receive quality advice and guidance throughout the whole process.
Ceramic veneers
If you have a cracked or chipped tooth you want to repair or a gap between your teeth that you want to close, then ceramic veneers could be the solution. A veneer is a new front for a tooth that is made from porcelain or ceramic and used to repair a cracked or chipped tooth, to close a gap between teeth and even to lighten the colour of a tooth. They can make your teeth look natural improving the position, shape and colour of your teeth.
How does it work?
Getting veneers at Berkeley Clinic is much faster than with other cosmetic dentistry clinics. As we are specialised in cosmetic dentistry we are one of the best orthodontist in Glasgow and have the equipment and skills to complete dental procedure fast and effectively. In most of the cases we can fit teeth veneers within a single visit. This is a result of our clinical team working with an in-house laboratory partner, who can prepare custom made veneers the same day the dental impressions of your teeth have been taken. We also use the newest technology in cosmetic dentistry – computerised CadCam which enables us to scan your teeth, take dental impressions and provide the results to your dentist and dental technician. Then the dental technician will prepares veneers that are tailored to your teeth and match the shade of your natural teeth.
Ceramic crowns
Ceramic crowns fitting is another popular service offered by Berkeley that can help restore your smile. They are used in the cases of teeth being weakened by fillings, decay or damage. A dental crown is a tooth shaped material made from porcelain, metal or both that is placed on the tooth. They are a type of dental restoration that covers a part of or the entire tooth, strengthens it and improves its overall appearance and position, while giving it a natural look. Because of these benefits ceramic crowns are often used in cosmetic dentistry.
How does it work?
The ceramic crowns are an alternative treatment to ceramic veneers and dental implants. After initial consultation our professional team of orthodontists Glasgow will conduct an examination and take dental impressions to collect all needed information. We use cutting edge CEREC 3D technology that enables us to preserve the healthy part of the tooth, while replacing the weaker areas with stronger, durable materials. The CEREC 3D digital technology we use allows us to place crowns in a day, which means no more wearing of temporary crowns and unnecessary visits to the dentists. One visit to Berkeley is enough to give you a new smile.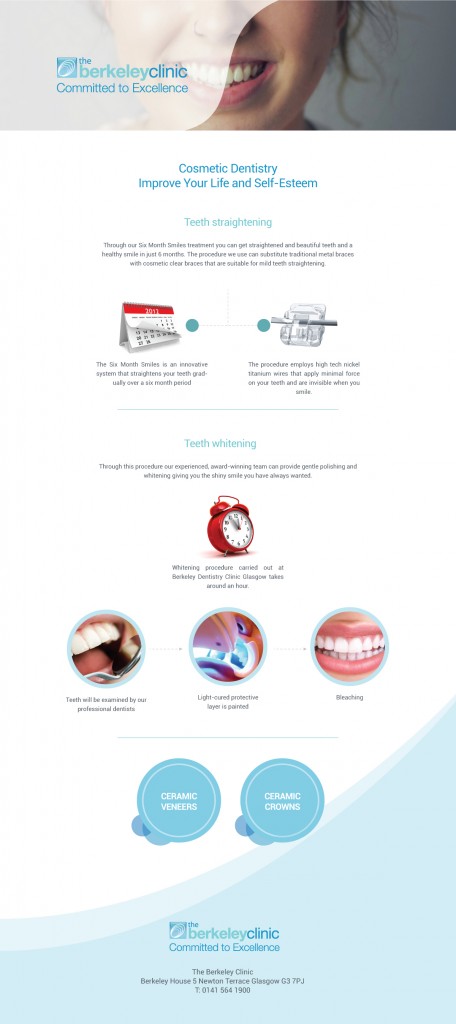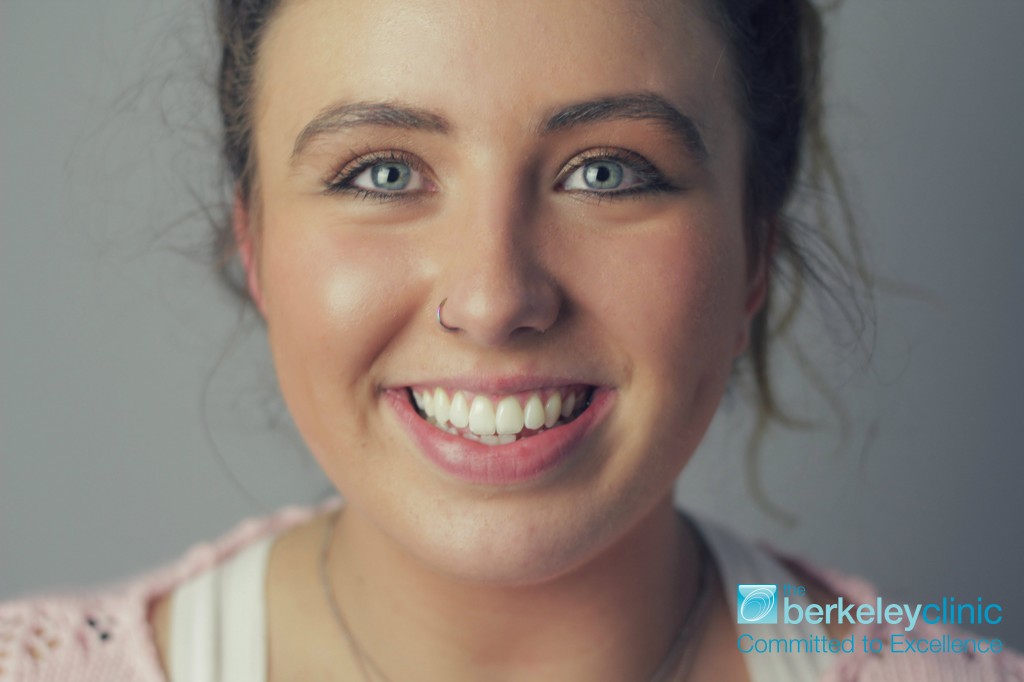 Berkeley – cosmetic dentist Glasgow
Are you looking for the best cosmetic dentist in Glasgow? Do you want to have teeth whitening in Glasgow? Do you think that cosmetic dentistry is what you need? Then Berkeley Clinic Glasgow it the right place to be. With our extensive range of dental treatments we can offer effective and lasting solutions faster than any other cosmetic dentist in Glasgow. Our teeth straightening services, teeth whitening services, ceramic veneers and ceramic crowns are just a few of the quality services through which we help our patients improve their live and self-esteem. Contact us today to learn more and to make an appointment with our award winning team.
Tags: confidence, Cosmetic dentistry, cosmetic treatments, Dental Clinic, dental treatment, laser teeth, premium teeth straightening solutions, professional teeth whitening, quality of life, self esteem, your smile