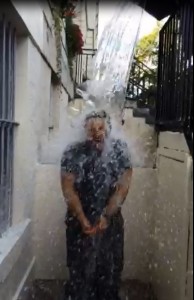 MacMillan Cancer Charity Fund
Is there anyone out there who hasn't heard about the Ice Bucket Challenge? The popularity of Ice Bucket Challenge has skyrocketed this summer and it became one of the most talked viral campaigns in 2014.
People are happily donating money to their chosen charities and spilling ice cold water all over themselves and their friends.
Dr Greig McLean does Ice Bucket Challenge for Charity!
Our talented dentist and doctor Greig Mclean was the first to take the plunge and completed his ice bucket challenge at the Berkeley Clinic in Glasgow. He was nominated by our lovely trainee dental nurse Kim Getty and designated the challenge to the Berkeley Clinic's clinical directors Jamie Newlands and Mike Gow. They now have 48 hours to accept the challenge!
Dr Greig Mclean has decided to donate to Macmillan Cancer Charity Fund in order to support cancer research and help patients to get the help they deserve. If you would like to see Dr Greig McLean getting soaked visit The Berkeley Clinic's Facebook page and leave your comment!
The Ice Bucket Challenge is a brilliant way to support your local community and various causes that require attention all over the world.
Tags: charities to donate to, Charity, charity challenge, Dental Implants, Dentist, Dr Greig McLean, Dr Greig McLean Glasgow, emergency dentist near me, Ice Bucket Challenge, Ice Bucket Challenge Charity, Macmillan Cancer Charity, smile dental, smile in a day, Teeth Whitening, teeth whitening dentist