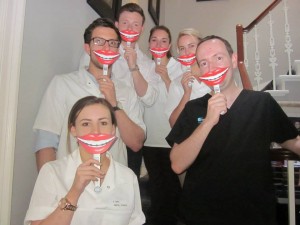 Every year the Berkeley Clinic in Glasgow welcomes dental students from all over UK and Scotland to get some dental experience at the practice. Students apply for the opportunity to shadow the award winning team and to explore a specific area of interest in more depth.
This year we have been visited by a group of dental students from Dundee Dental School who have spent some time with Dr Mike Gow. Dr Gow has presented a lecture on the dental anxiety management techniques. Dental students have observed sedation, hypnosis, cerec and dental anxiety management cases. They have spent a week at the Berkeley Clinic in Glasgow learning about the most advanced dental technology, patient care and shadowing our clinical care team.
Many of them are now off to far flung places to continue their elective studies armed with 150 toothbrushes to donate to children and patients in deprived areas all over the world.
We would like to wish them the best of luck in their studies and future career. It was nice having you here!
If you would like to find out more, click the following link for Berkeley Clinic in Glasgow .
Tags: berkeley clinic, Dental Student Experience, Dentist in Glasgow, Dr Mike Gow, Dundee Dental School, Experience at the Berkeley Clinic