Oral Infection Development & Treatments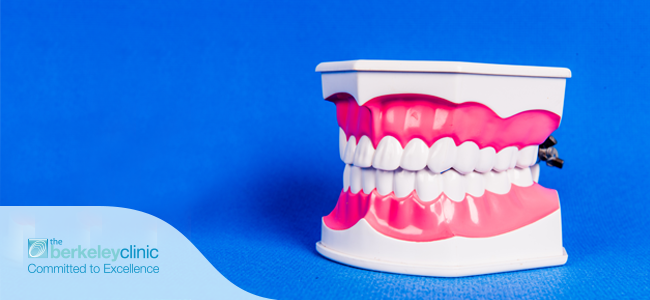 Gum disease is a dental condition that occurs when the gums around the teeth become sore, swollen or infected. It can range from simple inflammation to a more advanced disease that can cause serious damage to the bone and soft tissue that support the teeth. Gum disease is most common in two forms – gingivitis and periodontal disease. Gingivitis causes swelling and bleeding gums, while periodontal disease results from a long term or untreated gingivitis, causing the supporting structure around the teeth to deteriorate and could lead to teeth loss.
At Berkeley Clinic, a registered cosmetic dentist Glasgow, we offer a range of dental treatments that can help you improve your dental health and prevent tooth decay and loss. Gum disease is a serious conditions that should not be overlooked and that is why we recommend regular dental check-ups.
Gum disease development
Most people would suffer from gum disease at some point of their lives. Luckily gum disease is a condition that develops slowly and once detected can be effectively treated. The development of the disease starts with the building-up of plaque and bacteria around the tooth surface. The daily build-up of plaque is a process that cannot be avoided. The initial bacteria found in the plaque is harmless, however, if it is allowed to mature it becomes harmful and starts damaging the teeth and gums. Best way to prevent this process is brushing your teeth twice a day and flossing regularly.
Other contributing factors
Other factors and certain lifestyles can cause the gum disease to spread faster. Smoking is one of these. As smokers have more bacteria in their mouths their gums heal slower and get damaged faster by gingivitis. In fact, smoking in known to increase the chances of losing your teeth by 300% and is considered UK's leading cause of tooth loss.
Other factors that could contribute to the development of gum diseases and can negatively affect your dental health include stress, alcohol and a bad diet. Lowering your alcohol consumption, reducing your smoking and starting a healthy diet, combined with good oral hygiene, can significantly reduce the chances of developing a gum disease.
Indications of gum disease
If gum disease is left untreated is will worsen and start causing pain, infection, increased risk of heart disease and finally tooth loss. When brushing your teeth you should watch out for blood and bad breath. Both symptoms can indicate the early development of gum disease. If you are in doubt we recommend visiting Berkeley Clinic for an assessment. Once you visit us you will get a cosmetic dentist Glasgow appointed. Your orthodontist Glasgow will check for indicators of periodontal disease and carry out a 3D scan of your gums if necessary.
Treatment options
If we identify that you are suffering from gum disease you will most likely require a couple of visits to Berkeley Clinic Glasgow. Your orthodontist Glasgow will give you a thorough clean, removing all plaque and bacteria from your teeth. The number of visits will depend on the progression of your gum disease. Some special mouth rinses and in some cases antibiotics will be recommended to you in order to eliminate the bacteria that causes the disease.
Visit Berkeley Clinic Glasgow
If you are looking for professional dental treatment of gum disease then Berkeley Clinic is the place to go. We are at the forefront of innovative dental technology and we can treat advanced cases of periodontal disease that were considered hopeless to treat in the past. If you have any concerns regarding bleeding gums or bad breath then all you need to do is contact us. We will do everything we can to help.
Tags: bleeding gums, dental infection, dental symptoms, gingivitis, gingivitis treatment, gum disease, gum disease treatment, gum infection, inflamed gums, periodontal disease, periodontitis, receding gums, sore gums, tooth abscess