Berkeley Clinic Pinterest & Facebook Page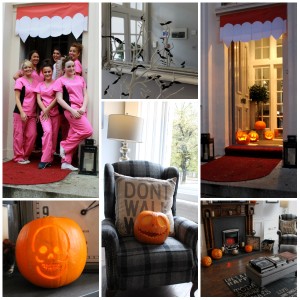 Boo! It's that time of the year again…magic, candle light, pumpkin carving and of 'course trick or treating. Do you have your Halloween costume ready for the scariest night of the year? We hope you do and we hope you will have lots of fun!
The Berkeley Clinic team would like to wish you a brilliant Halloween night whatever you decide to do! Have you seen how we decorated the clinic this year? We have carved 15 pumpkins and created a giant mouth door to welcome you on this spooky occasion. Our care team had their faces painted by our talented business manager Alison McIntyre on the day. If you haven't seen our Halloween pumpkin display and fun team photos visit our Pinterest or Facebook pages.
If you would like to find out more about cosmetic and restorative dentistry at the Berkeley Clinic contact us on 0141 564 1900.
Tags: cheap dental implants, cosmetic dentistry glasgow, dentist halloween costume, Glasgow, Halloween, halloween decorations, halloween dental, halloween dentist game, tooth implant, tooth implant cost, tooth replacement cost