Children under 1 year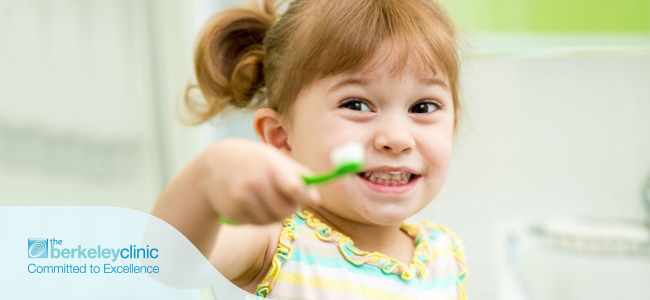 Every parent is well-aware of the importance of keeping their child's teeth healthy, but the process itself could be complicated. That is why Berkeley Clinic, registered orthodontist Glasgow, gathered some useful tips that can help preserve the good dental health of your child. These tips vary depending on the age of your child so we split them in different categories.
Children under 1 year
The first set of teeth your child will have are the baby (milk) teeth. They start showing from as early as three months old and should be cleaned from the moment they emerge. When you clean your baby's teeth a small amount of low fluoride toothpaste should be used. We recommend getting a toothpaste that contains no more than 1,000ppm fluoride, placing a small amount on a piece of muslin and gently rubbing it around the tooth. Once your child has enough teeth you can start using a baby toothbrush. The toothbrush packaging will usually denote what ages the toothbrush is suitable for. Tooth brushing from an early age will help prevent tooth decay and will make it easier for your child to build a habit of regularly brushing and a good oral hygiene.
You should also help your child get used to the dentist. As a start you can take them with you to your dentist appointments so they can get used to the environment. This can also help prevent the development of dental fear or anxiety. NHS dental treatment is free for everyone under 18, so you should register your child soon after they are born and take them for their first dental check-up when their milk teeth start showing.
Children aged 1-3 years
By the age of two or three your child should have a full set of 20 baby teeth and you should be cleaning them with a toothbrush twice a day. The toothbrush should be changed when the bristles start to spread out, approximately every one to three months.
Your child's gums will be extra sensitive at this time as they are teething. To make sure that you are not hurting them you should bush the teeth in gentle, circular motions using a toothpaste with between 1,350-1,500ppm fluoride content. Once finished make sure they spit the excess toothpaste but do not rinse as the toothpaste fluoride residue can help keep their teeth clean.
Try to avoid sugary snacks and drinks like cakes, fruit juices and sweets and replace them with cheese, raw vegetables and rice cakes. This will help promote healthier eating and will keep the good oral health of your child.
Children aged 3-12 years
After your child is around 7 years old you should stop brushing their teeth and let them do it themselves. From the age of 6 onwards the baby teeth will start to fall out and will be replaced by a full set of 32 adult teeth. Four of these are wisdom teeth which begin to appear between the ages of 18 and 25, but sometimes do not show at all.
Children aged 12-19 years
As your child grows their teeth can undergo a lot of stress so it is important to build up a good oral hygiene and go to regular dental check-ups. These are essential in preventing damage or decay of their adult teeth. Some factors that could affect your child's dental health include:
Orthodontics – fixed braces are often used in teens to straighten their crooked or crowded teeth. Crowded teeth put stress on each other and are hard to clean which makes them more likely to fall out.

Mouth guards – if your child starts taking part in extra-curricular sporting activities that involve impact, such as rugby, then it is recommended to wear a mouth guard to prevent broken teeth.
Smoking/drinking – as your child reaches the required age they may start smoking and drinking. These are very harmful for their teeth and dental health so you should advice your child to avoid these habits. If they start smoking or drinking they should inform their dentist.
Proper diet – as your child grows its diet is very important. Try to encourage a healthy diet with controlled amount of sugar and carbonated drinks and plenty of calcium and vitamin D. Excessive sugar intake and bad oral hygiene can lead to teeth decay, root canal treatment and potential tooth loss.
Berkeley Clinic Glasgow
If you are looking for a specialised orthodontist Glasgow then Berkeley Clinic is the partner you need. As a registered cosmetic dentist Glasgow we offer a wide range of dental treatments that will help you keep your smile healthy. These include teeth whitening, root canal treatment, dental implants Glasgow and others delivered by an experienced team of professionals. Contact us today to learn more.
Tags: best children dentist, children at the dentist, children dentist game, dentist office for children, good children dentist, importance of oral health in children, local dentist for children, oral health education for children, oral health problems in children