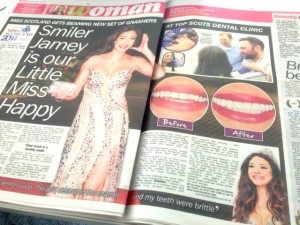 How Can Veneers Create A Healthy & Beautiful Smile?
Do you have a chipped tooth? Have you ever dreamt of a natural looking and healthy smile? Would you like to restore you crooked teeth and start laughing with confidence? The award winning Berkeley Clinic in Glasgow can offer you a special veneer dental treatment without any drilling or injections. Veneers can greatly improve the position, shape and colour of your teeth. Our clinical team can provide you with a wide range of veneer colour shades which means that we will find the right tooth colour match for any number of veneers you might want.
Recently, Miss Scotland 2013, Jamey Bowers has had her teeth veneered with our new, safe and pain free digital veneer technique. She said: 'I grew up scoffing fruit and slugging lemon juice. When I was 13 my dentist told me I'd better stop. All that acid has destroyed the enamel and my teeth were thin and brittle'. Jamey was looking for a more permanent solution to composite fillings, because her front teeth kept chipping and breaking.
Dr Jamie Newlands examined Jamey's teeth and offered her to try new digital THINEERS which don't require drilling or injections. He said: 'We had our greatly skilled lab technician to design the changes of her smile in 3D so that she could see the result before we carried out her treatment'.
Andy Tawse, a director of 4D Dental lab, added: 'After initial consultation and preparation, diagnostic wax-up showed Jamey the result that could be achieved with zero prep veneers. She was happy about it and our clinical team was working together to achieve the best result.' You can read a full story which was published in the Sun newspaper if you click here: Dazzlingteeth.
New digital THINEERS – which are the thickness of a contact lens and made from ceramic veneers and don't require any drilling – was the perfect solution. Jamey Bowers said: 'I'm thrilled with my smile makeover'! Book a consultation with the Berkeley Clinic team in Glasgow and get your smile shining bright! Call us on 0141 564 1900 or contact us via email.