Orthodontic treatment is a phrase you have probably heard banded around by dentists, friends or colleagues, but you may have been left wondering what exactly is involved in orthodontic treatment?  
Well, don't worry, as you're not alone.
Orthodontics has a wide scope and can involve many different forms of treatment. The basis of orthodontic treatment is improving the appearance of teeth, straightening tooth alignment, improving speech, correcting bite issues and protecting teeth from damage and disruption further down the line.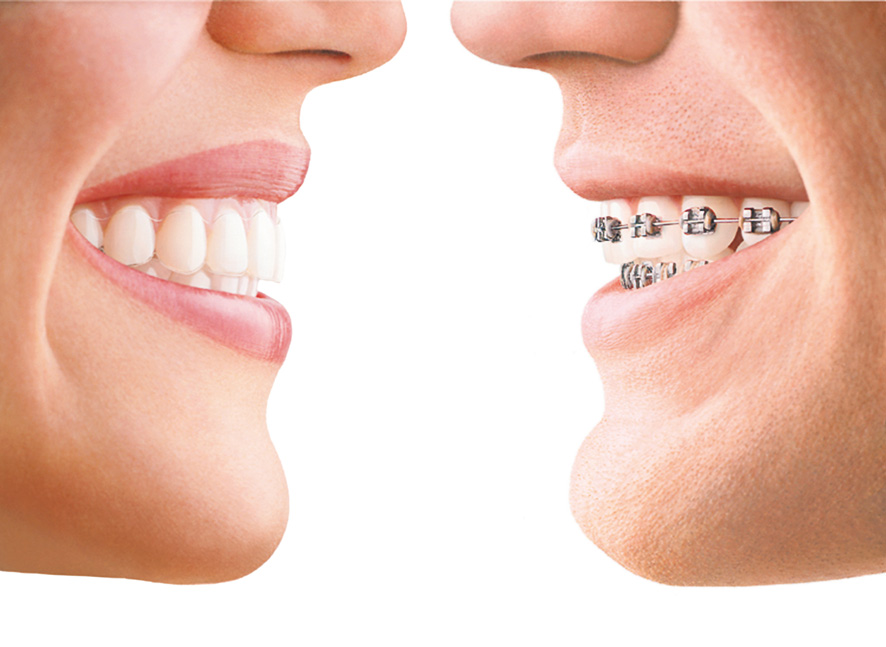 What is orthodontic treatment?
Orthodontics focuses on straightening teeth and improving the look of smiles by using teeth straightening appliances. These can include:
Fixed dental braces – the most well-known orthodontic appliance, usually used for teens. Also known as traditional metal braces or train track braces
Dental retainers – dental retainers are removable, plastic plates made bespoke to your mouth. Patients who wear dental braces will usually be asked to wear retainers for months, or even years, after their treatment to keep their teeth in place.
Teeth aligners – teeth aligners are perfect for making small corrections in the teeth and jaw. This orthodontic treatment option has become increasingly popular and more advanced in recent years.
Orthodontic treatment as an adult
For many of us, we think of orthodontic treatment as something that is only provided to teenagers. Perhaps we even had orthodontic treatment as teens ourselves.
However, in recent years adult orthodontics has grown in popularity. This is due to modern advancements in dental technology and the many new adult teeth straightening solutions that have been designed to correct teeth alignment quickly, discreetly, and in the most convenient way possible.
Common reasons for choosing adult orthodontics are:
Patients feeling unhappy with the current position of their teeth
Eager to achieve a straighter, more symmetrical smile
Teeth have slowly misaligned over time since having orthodontic treatment as a teen
Undergoing a full smile makeover
Hoping to correct bite and minimise gaps between teeth
Looking to straighten teeth quickly for a big life event, such as a wedding
Whatever the reason may be, orthodontic treatment is an ideal solution for improving the aesthetic look of your smile.
Many patients who straighten their smile through adult orthodontic options then go on to further improve the appearance of their smiles through other cosmetic dental treatments, such as teeth whitening or composite bonding.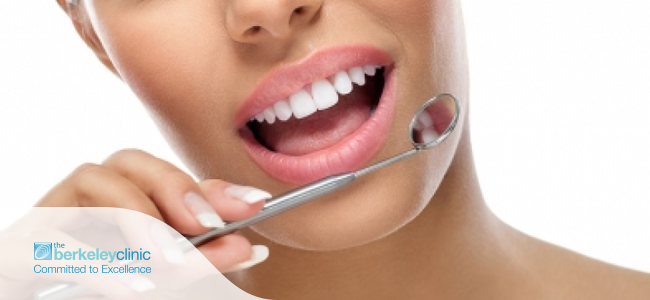 How orthodontic treatment works
Orthodontic treatment works by using teeth straightening appliances to gradually move teeth into their desired position, creating beautiful, straight smiles for adults and teens.
When visiting The Berkeley Clinic in Glasgow, the first step in your orthodontic journey will be to speak with your orthodontist and decide on the type of teeth straightening appliance that will be best suited for your mouth and circumstance.
For teens and young adults, traditional metal braces are the most popular option. For adults, clear teeth aligners have become a popular tooth straightening option.
With either type of appliance, your orthodontist will gradually progress your treatment to gradually move your teeth into their desired position. With traditional fixed braces, this will involve the orthodontist tightening the braces every 3-4 months. For clear aligners, you will simply progress through the sets of aligners as your teeth shift in position.
Does orthodontic treatment hurt?
When it comes to any type of dental treatment, patients tend to fret over the potential pain and discomfort that it will cause. Orthodontics is no exception, with many patients, both young and old, asking us "Does orthodontic treatment hurt?".
The answer is both yes and no. Having braces or aligners fitted will not hurt, although you may feel some discomfort during the procedures
As your teeth start to move in position, you will notice heightened sensitivity and mild pain. This pain is particularly noticeable whenever patients have their braces tightened or move on to the next set of aligners, as the teeth are being given a gentle but firm push in their alignment.
With this being said, pain and discomfort tend to only last a few days after tightening and is rarely severe. To help you through the pain, try to see it as a sure sign that the teeth are straightening and your dream smile is slowly but surely becoming a reality.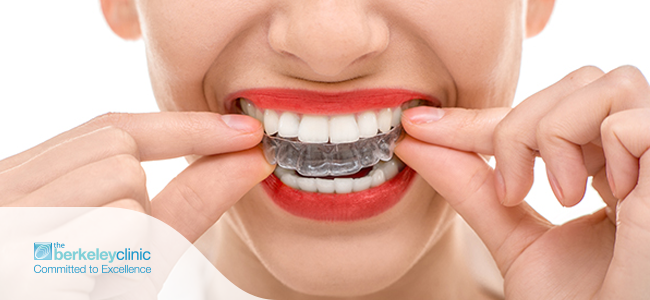 The advancement of clear orthodontics
One of the main reasons for orthodontic treatment becoming more popular in adults is due to the revelation of clear orthodontics.
Clear orthodontics provides a discreet tooth straightening option so that adults can go about their daily professional lives without any of their friends or colleagues noticing that they are undergoing teeth straightening treatment.
In addition to clear aligners, which have led the way in clear adult orthodontics, orthodontists can now offer clear traditional dental braces as an additional option when it comes to clear orthodontics for adults.
Clear orthodontic treatment options
There are two main options when it comes to clear orthodontics for adults, these being:
Clear adult braces
Clear teeth aligners
Clear adult braces
Clear adult braces are traditional metal braces made to be as invisible and discreet as possible when in the mouth. They are highly effective and will correct alignment in 6-24 months, depending on the current state of the patient's mouth.
Clear teeth aligners
Clear teeth aligners are arguably the most attractive orthodontic option for adults due to them being fully removeable, discreet and comfortable in the mouth and highly effective in correcting misaligned or gapped teeth.
The two leading clear aligners solutions on the market today are:
Both Invisalign and ClearCorrect work in similar ways.
Your orthodontist will start by taking impressions of your mouth in order to construct your bespoke, custom-made teeth aligners.
Your orthodontist will inform you of how to properly wear the clear teeth aligners, outlining important points such as:
The number of hours they should be worn for each day
How to keep the aligners clean
When to come back into the surgery for checks-ups and consolations
When to move on to the next aligner
The number of aligners you will be provided with will depend on the plan that you choose. The treatment plan can be decided on with your orthodontist, with cost and the amount of work that needs to be done being the two key deciding factors for most patients.
As you progress through your treatment and your teeth gradually move in position, you will swap out the old aligners for new ones until the plan is finished, leaving you with a perfectly straight smile that will last for years to come.
If you are unsure of whether Invisalign or ClearCorrect treatment is best for you, The Berkeley Clinic has a helpful breakdown on this issue, found via the link above.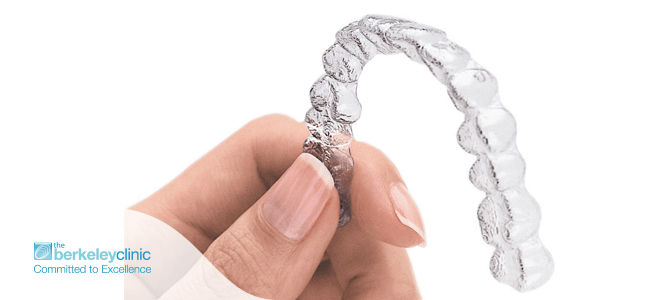 Orthodontic treatment costs
Orthodontic treatment is a necessary treatment option for many patients across the UK.
In Scotland, legislation has recently changed so that NHS dental treatment is free for all patients under the age of 26. This means you can benefit from adult braces for free if you fall into this age bracket.
However, anyone over the age of 26 or interested in private orthodontic treatment options, such as clear aligner treatment from Invisalign or ClearCorrect, will need to pay for their treatment.
The cost of orthodontic treatment will vary depending on the type of treatment you choose and the exact plan you and your orthodontist decide on. To make the most more manageable for our patients, The Berkeley Clinic in Glasgow offers a helpful dental finance plan so you can spread the cost of your advanced orthodontic treatment.
To get an accurate quote on your teeth straightening treatment, contact The Berkeley Clinic today on 0141 564 1900.
Benefit from world leading orthodontics at The Berkeley Clinic
If you are interested in straightening your teeth, correcting alignment, closing gaps and correcting bite issues, then orthodontic treatment is the perfect solution for you.
The Berkeley Clinc has a team of world-class orthodontists at-hand to guide you every step of the way in your teeth straightening journey. We'll offer our honest advice on the orthodontic treatment that is best suited for your needs and assist you throughout the treatment to ensure the end result is exactly what you envisioned.
To find out more about the orthodontic treatment offered at The Berkeley Clinic, or to book your initial consultation with one of our Glasgow orthodontists, don't hesitate to get in touch with our team today.
Tags: clear orthodontics, cosmetic dentistry glasgow, Dental braces, Invisalign treatment, orthodontic treatment