Have you ever had a broken or chipped tooth?
If you have, you know how painful and embarrassing it can be. It can also make it difficult to speak confidently, especially when you have a social gathering or a professional engagement coming up.
If you're struggling with chipped or broken teeth, you are not alone. Millions of people throughout the UK suffer from dental problems every year. The good news is The Berkeley Clinic in Glasgow offers a fantastic solution for suffering smiles.
Dental veneers are one of the most popular treatments we provide at The Berkeley Clinic. They are a brilliant solution to replacing broken, damaged or chipped tooth without the need for invasive surgery or lengthy treatment times. If you're looking for a solution for chipped or broken teeth, read below to find out why dental veneers might be the perfect answer for you!
So, without further ado, let's delve into how veneers work and discover how they can unlock a more confident you.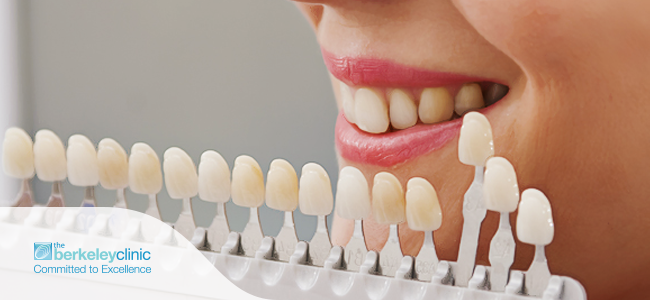 Understanding Veneers: What are they and how do they work?
Dental veneers are thin, custom-made shells typically made of porcelain or composite resin.
They are designed to cover the front surface of the tooth, thus covering up imperfections such as cracks, stains, gaps and chips. Veneers are non-invasive and extremely safe, with treatment taking only 1-2 short appointments.
Veneers work by:
Preparation: A small amount of enamel is removed from the tooth's surface to make room for the veneer.
Impression: An impression or mould of the prepared tooth is taken – we use digital impressions at our modern dental clinic in Glasgow.
Fabrication: The veneer is custom-made in a dental lab using the impression so it fits exactly with your tooth shape.
Bonding: Once ready, the veneer is cemented onto the prepared tooth using a strong adhesive.
Some of the most common dental problems that veneers can help solve include
Stubborn stains
Small gaps and spaces between teeth that you wish to cover up
Crooked teeth
Irregularly shaped or unevenly sized teeth.
Visible cracks or breaks on the front part of the tooth
Types of Veneers
There are two main types of veneers: porcelain veneers and composite veneers.
Porcelain veneers are made from a ceramic material similar to natural teeth. They also have a natural appearance, so they are often preferred by patients who want to improve their teeth.
Composite veneers are made from a resin bonded to the teeth. The wax makes them less durable than porcelain veneers but also less expensive. Composite veneers are also used to repair small chips or cracks in teeth.

Both types have advantages, but porcelain veneers are particularly favoured due to their durability and natural appearance. However, the best veneer for you depends on your needs and preferences.
How do veneers work?
At The Berkeley Clinic, we use cutting-edge CadCam technology to create bespoke veneers. An intra-oral camera scans your mouth, which eliminates the need for messy impressions. Our dentists and technicians assess the results and prepare veneers to ensure facial harmony and optimal outcomes.
Our dentists use the CEREC 3D system, which allows us to create crowns, veneers, and ceramic reconstructions in a single visit. This tool significantly improves our dental veneer procedure over traditional techniques, which typically require temporary veneers and several trips in two weeks of waiting in between. CEREC 3D allows patients to leave our office with their new tooth in just one hour. 
 
Please note that aftercare is essential following your veneer treatment. We recommend an appointment with our hygiene therapists post-treatment to advise how to look after your new teeth.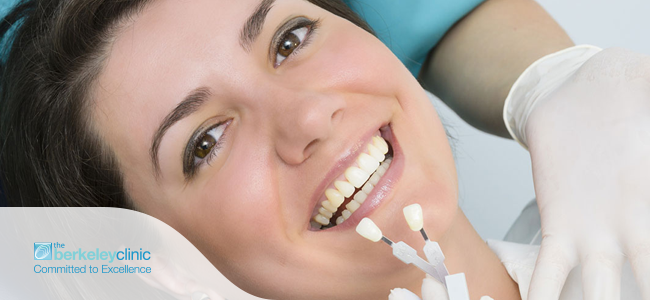 Correcting dental imperfections with veneers
Dental veneers are remarkably effective in correcting various cosmetic issues, including:

Chips and cracks: Veneers can conceal chips and cracks on your teeth, restoring your natural appearance.
Stains and discolouration: Dental veneers can also cover signs of stains and discolouration, especially the ones that do not respond to tooth whitening, offering a solution to a brighter smile.
Misalignment and gaps: Misalignments and gaps, crooked teeth, and irregularly shaped teeth can also be corrected using dental veneers, providing an alternative to braces or other long-term teeth straightening options.
We offer several cosmetic dental solutions for patients eager to improve the look and health of their smile. Whilst veneers are a great choice for many, the best solution for you will depend on your unique circumstance.
For expert help in choosing the best cosmetic dental treatment, don't hesitate to reach out to our expert team today.
Natural-looking results and improved aesthetics
Dental veneers are a great option for people who want to avoid lengthy or invasive treatment whilst still receiving reliable, natural-looking results. For example, if you have a few slightly crooked teeth or gaps, veneers can be used to straighten them out instead of opting for traditional braces or other orthodontic options.
The Berkeley Clinic uses the highest quality materials to create natural veneers that blend seamlessly with your existing natural teeth.
Our porcelain veneers look natural and are a good option for those who want to make minor dental treatments. Veneers are easy to maintain, and you can even whiten your teeth with professional whitening treatment after your veneers are fully bonded and healed.
Read on and learn more about how dental veneers can help boost self-confidence.
The psychological benefits: Boosting self-confidence with dental veneers
A smile is one of the most essential features of our face. It can convey various emotions, from happiness to sadness to confidence. When we smile, we present ourselves as happy and approachable to others, elevating our own happiness as well as those around us.
For many, a smile is a source of great self-confidence. You feel good about yourself and more confident when you have a beautiful smile. You are more likely to smile in public, and you are more likely to feel comfortable talking to people. It can have a positive impact on your social life, your career, and your overall happiness.
However, all too often we encounter patients who are unhappy and unconfident in their smiles due to minor dental issues such as gaps, cracks or chips.

Therefore, by choosing dental veneers to improve your smile, you can benefit from psychological benefits as well as physical and aesthetic benefits.
These benefits can lead to several positive changes in your life, including:
Increased self-esteem,
Improved social interactions
Greater career opportunities,
Start your veneer journey now with The Berkeley Clinic.
The journey to a more confident you begins with a simple decision to enhance your smile and fix those pesky issues that are holding you back from becoming your best, most confident self.
Dental veneers offer a promising avenue toward that goal.
At The Berkeley Clinic, we use our expertise and many years of experience to get your smile to where you want it to be. In addition, we offer competitively priced veneers and flexible dental finance plans to make your treatment more accessible and affordable.
Remember, a beautiful smile is not just about looking good. It's about feeling good too!
Contact our friendly team today to start your journey towards a beautiful new smile with dental veneers.