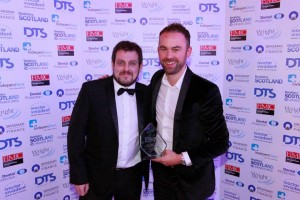 Dentistry Scotland Awards 2013
We are very pleased to announce that The Berkeley Clinic has been awarded for the 'Best Scheme for Treatment of Nervous Patients' at the Dentistry Scotland Awards 2013.
Dentistry Scotland Awards is one of the most prestigious events of the year celebrating all that is good in Scottish Dentistry and rewarding exceptional achievements within the profession. Our team is extremely excited and pleased to win the award!
If you know someone who is scared of the dentist then contact the Berkeley Clinic and see what we can do for you.
Our award winning team can help you to manage your dental anxieties and fears and have the dental treatment you wish to have.
If you would like to find out more contact us on 0141 561 1900 or visit Berkeley Clinic.
Tags: berkeley clinic, Berkeley Clinic Awards, Best Treatment of Nervous Patients, dental anxiety, dental anxiety statistics, dental awards, dental directory, dental jobs best dentist near me, dental phobia, dental phobia uk, how to overcome dental anxiety, how to overcome dental phobia, Private Dentistry Awards, private dentistry awards 2010