Young Dentist Of The Year Nomination 2011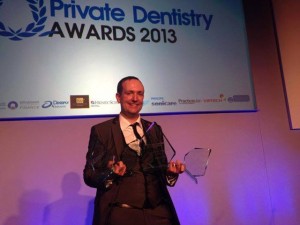 The Berkeley Clinic has been awarded four prestigious Private Dentistry Awards 2013 including 'Best Treatment of Nervous Patients', 'Best New Practice', 'Practice of the Year (N)', and 'Practice of the Year (UK)'! The 2013 awards ceremony and dinner were held at The 5* Hilton Hotel in London where our team members received the awards.
A Private Dentistry Award is now recognised as one of the most valuable external guarantees of a practices performance. The independent panel of judges identified and rewarded the very best in the private sector of dentistry. The Berkeley clinic team is extremely delighted to have won such high-status awards. We would like to thank everyone for the support, especially, the esteemed panel of judges.
Tags: best dentist glasgow, Best New Practice, Best New Practice 2013, Best Treatment of Nervous Patients, dental awards, dental hygiene awards, dental industry awards, dentist award, Dentist of the Year, hungarian dental awards, Practice of the Year 2013, Practice of the Year UK 2013, Private Dentistry Awards 2013, scottish dental awards, scottish dental awards 2016, the dental awards 2010, the dental awards 2016, what does the dentist of the year get, Winners 2013, young dentist of the year