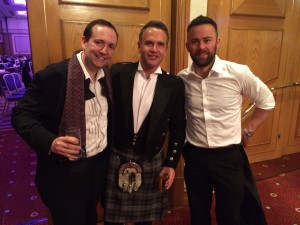 Dentist Awards 2015
The Berkeley Clinic in Glasgow has received three dental awards at the Dental Awards ceremony held in the Dentistry Show 2015. We are proud to be amongst the top dental clinics in the UK and to be recognized for our hard work and commitment to the dental profession.
Three of our dentists, out of 10, have been short-listed for the Dentist of the Year award. Dr Jamie Newlands, Dr Mike Gow and Dr Greig Mclean were competing in the same category for the 'Dentist of the Year' award. Dr Jamie Newlands was announced the 'Dentist of the Year' and Dr Mike Gow was Highly Commended in the same category. The night got even better when the Berkeley Clinic team got Highly Commended in the 'Team of the Year' category.
The Berkeley Clinic is an award winning clinic located in the West End of Glasgow. We are offering highly advanced cosmetic and restorative dental treatments for everyone who wants to have beautiful and healthy smile. Our team can replace missing teeth, gently whiten your smile or undertake a full smile makeover. If you are looking for a dentist in Glasgow contact our team and see how we can help.
Tags: best dentist glasgow, dental awards, Dental Awards 2015, dental hygiene awards, dentist award, Dentist Glasgow, Dentist of the Year, Dentistry Awards, scottish dental awards, scottish dental awards 2016, the dental awards, the dental awards 2016, The Dental Show 2015