Improved oral health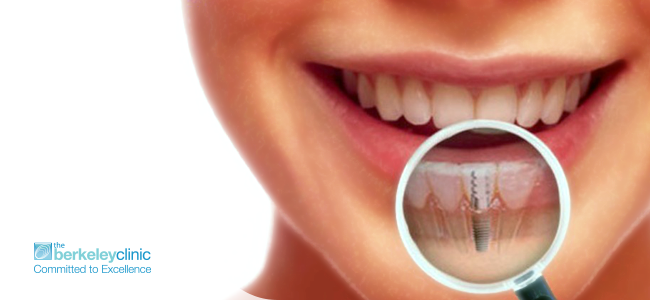 Before the invention of dental implants people with missing, decaying or badly damaged teeth had only two dental treatment options – dental bridges and dentures. Today dental implants are a popular dental treatment all over the world used to replace missing or decaying teeth. During the dental implant fitting prosthetic implants are carefully fixed in the jaw bone of the patient. They are durable and indistinguishable from the natural teeth which makes them a preferred dental treatment for many.
Berkeley is a registered Glasgow dental clinic that specialises in advanced dental implants treatment that enable people suffering from tooth loss and tooth decay to get their smile back. Our award-winning clinic has gained the reputation of the best dentist in Glasgow and we are keen to provide the best possible services to our patients. Our dental implants Glasgow offer numerous benefits including:
1. Improved comfort
Unlike dentures dental implants do not need to be removed. Once they are placed they become a part of you, offering better fitting than other available dental treatments. In our Glasgow dental clinic we create custom made dental implants for each individual. The dimensions and shape of the teeth and the shape of the jawbone are taking into consideration and used to create better fitting dental implants that provide improved comfort.
2. Increased durability
Dental implants are made of titanium which makes them incredibly durable. They fuse with the jaw bones which makes them more or less a permanent fitting. With proper maintenance dental implants can last for many years, even a lifetime.
3. Improved appearance
Once the dental implants are fitted and fuse with the bone they are tinted to a shade that matches the natural teeth of the patient. As a cosmetic dentist with extensive experience in dental implants Berkeley Clinic can fit dental implants that are nearly impossible to tell apart from natural teeth. That is why many patients consider us to be the best dentist in Glasgow and come to us to improve the appearance of their smiles.
4. Improved oral health
Dental implants can also help improve the overall oral health of the patient. Unlike other dental treatments dental implants do not require altering the surrounding teeth during installation. As a result your healthy teeth are left intact and in good condition. Dental implants allow easier access between the teeth and can be brushed and flossed like natural teeth. This leads to improved overall oral hygiene.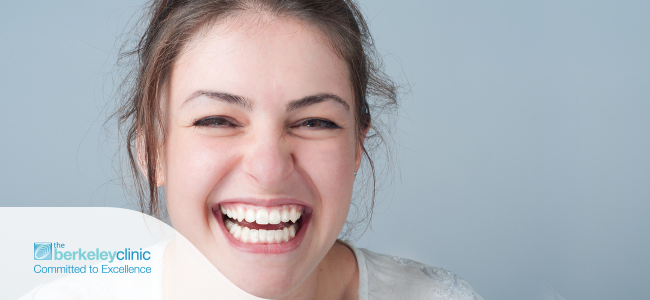 5. Improved speech
Sometimes dental treatments, such as poor-fitted dentures, can lead to mumbling or words being slurred. This happens when dentures or teeth slip within the mouth. As dental implants are tailored to the individual case to ensure a perfect fit they allow you to speak without worrying about situations like this and result in improved speech.
6. Easier eating
When your dentures slide in your mouth chewing becomes a challenge. That is why dental implants are the better choice. Once fitted they function like your own teeth enabling you to chew better and allowing you to eat your favourite meals with confidence and without pain.
7. Convenience
Removing dentures and trying to keep them in place with adhesives is extremely inconvenient. With dental implants the embarrassment of removing your dentures does not exist. Dental implants function as your own natural teeth and are permanently fixed in your mouth.
8. Improved self-esteem
Missing or decaying teeth can be detrimental to your self-esteem. Many people feel embarrassed to laugh or smile when they suffer from tooth loss. With dental implants you can get your smile back in no time! Contact Berkeley Clinic orthodontist in Glasgow and ask for our smile in a day treatment. We will help you feel more confident and better about yourself.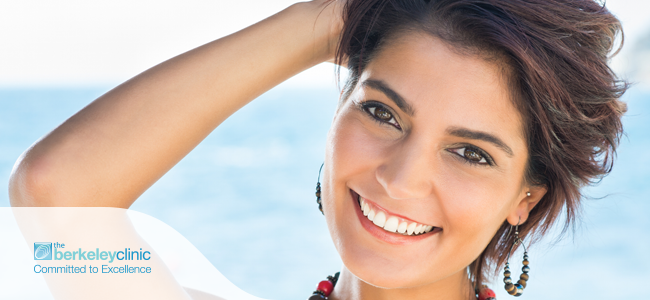 Contact your private dentist in Glasgow
Berkeley Clinic is a registered Glasgow orthodontist with a range of dental treatments available to all out patients. We have gained the reputation of the best dentist in Glasgow and we are keen to keep providing high quality services to everyone who needs them. Our Glasgow dental clinic is one of the most modern in UK and allows us to provide dental treatments promptly and with fewer appointments. To learn more about our services contact us today.
Tags: dental bridge vs implant, dental implant bridge, dental implant clinic, dental implant cost, dental implant specialist, Dental Implants, Dentist Glasgow, single tooth implant, teeth implants inverness, tooth implant process, tooth implant surgery