Many know orthodontics as a dental treatment that improves the alignment and position of your teeth.
However, orthodontics has a broader scope than that, and having basic knowledge of the treatments involved will give you an advantage in communicating what you want when visiting the dentist for your next orthodontic appointment.
If you are curious and looking to know more about the wide scope of treatment available within orthodontics, then you're in the right place!
This blog will take you through the world of orthodontics and explore how it can help you achieve straighter teeth, improved oral health and a confident smile. Let us get into it and discover what orthodontic treatment can do for your smile and dental health!
What is orthodontics?    
Orthodontics dentistry focuses on correcting misaligned teeth and jaws. The primary goal is to enhance your smile's aesthetics and functionality by closing gaps, straightening teeth and creating a beautiful straight smile.
If you have crowded teeth, crooked or gapped teeth, or bite issues, orthodontic treatments can significantly improve your dental health and overall well-being.
The Berkeley Clinic specialises in correcting these dental issues through effective teeth straightening treatments. For years we have been helping adults in Glasgow correct their smiles with our orthodontic services, such as clear aligners, adult braces, and bespoke retainers.
If you are unhappy with your smile or feel self-conscious about the position of your teeth, our team can help! Don't hesitate to contact us to learn more about what our orthodontic treatments can do for you.
The Role of an Orthodontist at Berkeley Clinic    
At Berkeley Clinic, our team of orthodontists is committed to providing exceptional dental care. With years of experience and extensive training, our orthodontists possess the expertise to diagnose your dental concerns accurately. They will then design a personalised treatment plan tailored to your needs and goals.
The role of an orthodontist at our clinic is not simply to provide you with service. We want to be exceptional and make sure you achieve your smile goals.
Our orthodontists will be available throughout the whole process, giving your help and bespoke advice until the very end of your treatment, and then beyond that as we continue to enhance your smile.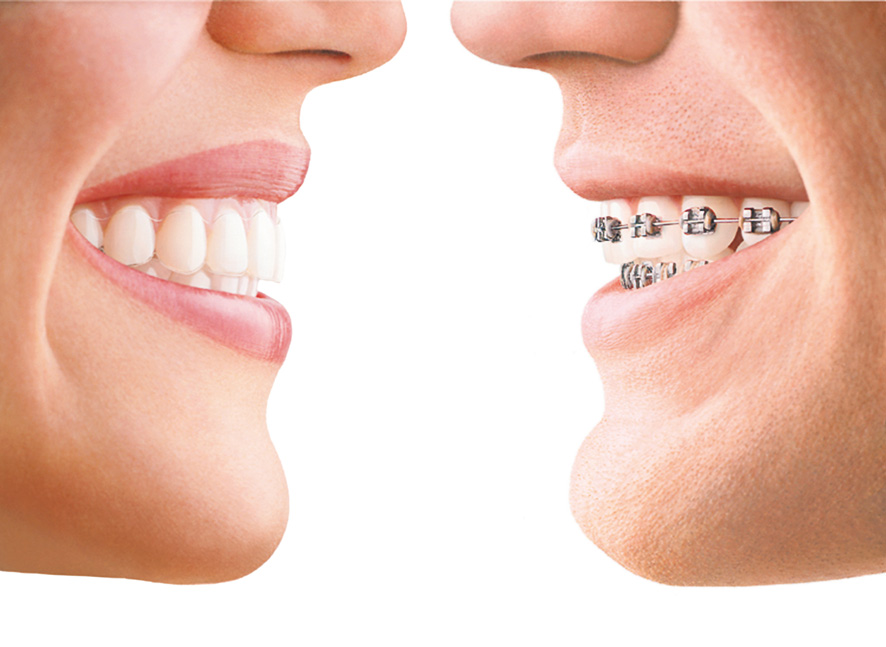 Overview of Orthodontic Treatments for Straighter Teeth    
As technology advances, it has become easier than ever to achieve straighter teeth. With better techniques and cutting-edge tools, we can confidently ensure that your orthodontic dental experience is comfortable and convenient. Gone are the days of unsightly metal braces.
We now utilise a range of treatment types to help our patients straighten their smiles discreetly, quickly and effectively.
At The Berkeley Clinic, we offer a range of alternative options for teeth straightening, including:
Many adults prefer these options because of their discreet nature and increased convenience. Patients can wear their clear aligners throughout the working day without anyone noticing. Simply remove them to eat and drink and experience orthodontics the new way.
Many patients will achieve a perfectly straight smile in as little as 6 months with these modern teeth straightening treatments.
So, if you are having trouble with gapped or crooked teeth, please explore the above treatments and see how we can help you achieve your dream smile quickly and discreetly.
Braces: Effective and Time-Tested Solution    
Years ago, it was rare to see adults wear braces, but today people have become more conscious of their smile, especially professionals looking to improve their look and teeth functionality.
Braces are excellent for addressing dental issues, including severe misalignments and complex cases. With this increasing demand for an improved smile, many patients view braces as the traditional and straightforward solution. But even here, there are options to choose between.
Traditional braces: Traditional fixed braces have been a staple in orthodontic treatments for decades. This traditional brace consists of metal brackets and wires that move your teeth into their proper positions. However, they are visible and can be uncomfortable to use.
Clear braces: On the other hand, clear braces, developed and designed to be removable and invisible, are ideal for those who are always around people. It addresses dental issues like overbite, underbite, overcrowding and gapping. Both methods are effective but still depend on your needs and preferences.
Retainers: Maintaining the Perfect Alignment    
After completing your orthodontic treatment, retainers will play a crucial role in preserving fantastic results. They are custom-made plastic plate appliances that are removable and help maintain your teeth's new alignment.
Patients should wear their retainer for months or years to keep their teeth aligned. However, do not stress over the specifics. Our team will guide you on the proper usage and care to ensure lasting results.
Invisalign & Correct Clear: The Invisible Aligners    
For those seeking other options, clear aligners offer a revolutionary approach to straightening teeth. Made of clear materials, aligners provide a nearly invisible treatment option that allows you to straighten your teeth freely as you work and socialise.
The Berkeley Clinic partner with leading clear aligner brands, ClearCorrect and Invisalign, so that we can provide the best possible teeth straightening options for our patients.
Whilst Invisalign and ClearCorrect are both similar in their offering of a discreet and practical alternative to traditional braces, there are some differences between the two systems.
Materials: Invisalign aligners are made from a proprietary material called SmartTrack, designed to be comfortable and durable. ClearCorrect aligners from a thinner material, which makes them even more discreet. However, the lighter material can also make ClearCorrect aligners more fragile.
Thickness: Invisalign aligners are slightly thicker than ClearCorrect aligners. This difference in thickness is not noticeable to most people, but it can make Invisalign aligners more comfortable to wear.
Speed of treatment: The rate of treatment with Invisalign and ClearCorrect varies depending on the severity of the malocclusion. However, Invisalign treatment is generally slightly faster than ClearCorrect treatment.
Treatment process: The treatment process for Invisalign and ClearCorrect is similar. Depending on your case, both systems require a series of appointments with an orthodontist.
Cost: The cost of Invisalign and ClearCorrect depends on the malocclusion severity and the number of aligners required.
Which treatment is right for you?  
The best transparent aligner system for you will depend on your individual needs and preferences.
If you are looking for the most discreet option, ClearCorrect may be a good choice. However, Invisalign may be better if you seek the fastest treatment option. Ultimately, the best way to decide which system is right for you is to talk to your specialist orthodontist.
Here are some additional points to consider when choosing between Invisalign and ClearCorrect:
Your lifestyle: If you have a busy lifestyle and need to be able to remove your aligners for certain activities, ClearCorrect may be a better choice. Invisalign aligners are more challenging to remove, so they may be more challenging to manage if you have a busy lifestyle.
Your budget: Invisalign is more expensive than ClearCorrect, therefore ClearCorrect may be a better option if you are on a budget.
Your orthodontist's experience: Choosing an orthodontist experienced with both Invisalign and ClearCorrect is essential to ensure you receive the best possible care.
How to schedule an orthodontic consultation at The Berkeley Clinic    
Taking the first step towards your new smile can be exciting yet overwhelming.
At The Berkeley Clinic, scheduling a consultation with our orthodontists is simple. You can either reach out to us through our website or contact us directly by phone. Our caring team will be delighted to assist you in setting up an appointment that fits your schedule.
Now that you are well-informed about the world of orthodontics and all it's available it's time to take action!
Schedule an initial consultation with us today, and let's work together to achieve a brighter and straighter smile that will last for many years to come.