Why Choose Berkeley Clinic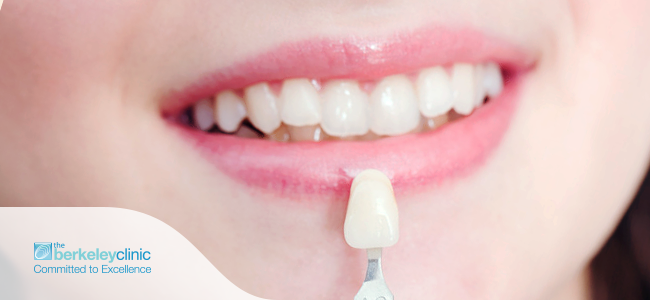 Damage to your teeth can happen at any time and in numerous ways. A chip or a crack in your tooth can be both painful and cosmetically damaging to your smile. What can be done? With the help of veneers, problems arising from damage to your teeth can be removed and boost the confidence in your smile with the help of The Berkeley Clinic dentistry in Glasgow.
Why choose veneers?
All our veneers are custom made to fit you perfectly, made from either porcelain or ceramic. You can be sure that at the award winning Berkeley Clinic you will be getting professional service from world leading dental technicians who will listen to you and recognise your dental requirements to create a veneer – and experience – that is tailored to suit you.
A veneer is a brand new front surface fitted to the affected tooth. Created with comfort, aesthetic appeal and strength in mind, a veneer can vastly improve on the strength and look of your teeth. Improving upon the shape of your teeth is also a major benefit of the veneer. With a variety of different coloured veneers available, we can offer you a fully customised experience that is comfortable for you in our Glasgow dental clinic.
What are veneers used for?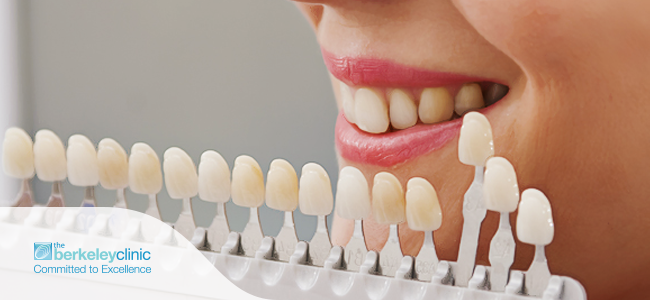 Created with comfort, aesthetic appeal and strength in mind, a veneer can vastly improve on the strength and look of your teeth. The reason for getting a veneer fitted varies from person to person, however the most common uses are for protecting a chipped or cracked tooth, closing a gap between your teeth, reshaping the teeth, or to create a natural looking bright Hollywood smile with improved colour and positioning.
Using ceramic and porcelain creates a stronger surface for your teeth and you can be confident in eating with them in place. Especially at The Berkeley Clinic, we can have your veneers fitted in a single session – saving you time while giving you the best quality dental service possible.
Why choose The Berkeley Clinic?
Our team of professional dental technicians have been expertly trained to bring you the utmost of dental care and service. You can be assured that by having your veneers fitted by us that you will be getting award winning dental services. You can see our full list of dental awards here.
Dental Implants – Another Winning Solution
Other than offering options such as veneers, cosmetic surgery, and orthodontist services in Glasgow, we offer a further way to improve your smile. If the damage caused is a missing tooth, our dental technicians provide another wonderful service for the restoration of your natural smile without the use of dentures or dental bridges. With our professional dental implants in Glasgow, we can offer you an even more natural smile.
Made with titanium, dental implants are an artificial tooth root that is placed in the jawbone with a crown or bridge placed on top. This creates a secure root for your new tooth, and gives a more natural look to the tooth in your smile. They can last for years, and if you provide them good care, can last up to a lifetime. Indistinguishable from your other teeth, you will feel as if it were always part of your smile.
Anxious about visiting?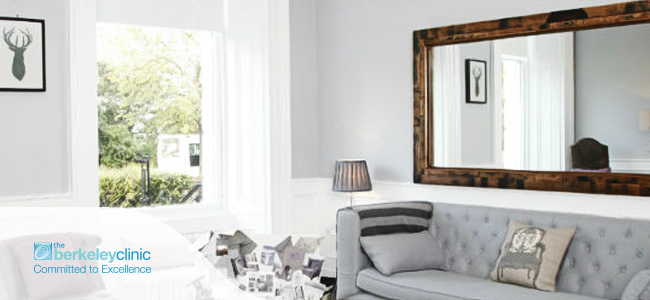 At The Berkeley Clinic we offer a unique dental anxiety clinic to help you through the difficulties you may face in approaching a dentist. Winners of the 'Best Treatment for Nervous Patients' at the Private Dentistry and Dentistry Scotland Awards 2014 and 2013, you can be reassured that our team is dedicated to providing you with a stellar service fitting around you. We will help you overcome your dental treatment anxiety to help bring you the best, and brightest, smile.
Our clinical team are on hand to be able to assist you in finding the right dental services for you. Contact Us today to arrange a consultation for your cosmetic dentistry and cosmetic surgery requirements in Glasgow.
Tags: clip on veneers, cosmetic dentistry glasgow, Dental Implants, dental veneers, Dentist Glasgow, glasgow west end, how much are veneers, how much do veneers cost, porcelain veneers, Veneers, veneers before and after, veneers procedure, what are veneers