Have you heard of clear aligners? They might just have been referred to by their brand names, especially big names like Invisalign and ClearCorrect.
Clear Aligners vs. Traditional Braces
If you have memories as a child of dealing with dental braces or if you have a friend who did, you probably know that most users feel some frustration with them, especially at mealtimes.
Maybe the most important difference between clear aligners and traditional metal braces is that they're fully removable, allowing patients to eat, brush, or floss without them – though you do still have to wear them for at least the recommended amount of time each day to get results!
A second benefit is, as the name suggests, they're clear, and for many dental patients (especially adults) this is much more attractive. Like it or not, there is still a stigma against dental braces, and clear aligners are mostly used in adult orthodontic treatment (though some teens use them).
Lastly, clear aligners are comfortable to wear, partly because they have some flexibility.
They're best used with multiple different aligners over the course of the treatment, as this allows the dentist to reduce any discomfort by changing aligners as the teeth approach the correct positions.
Clear aligners might be for you if you weren't able to treat misaligned teeth in your youth, or if your teeth have reverted following a younger treatment.
Clear aligners can give you the straight, perfect smile of your dreams without disrupting your daily life. Your set will be custom-made to fit your mouth to reduce discomfort.
At the Berkeley Clinic we only work with ClearCorrect and Invisalign aligners, these being the most reliable, high-quality options available. We do also offer clear adult braces as an alternative tooth straightening option for adult orthodontic patients.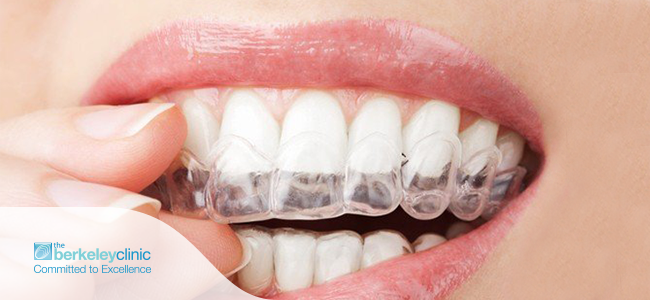 What You Can Expect from Clear Aligners
Both clear aligner treatment options, Invisalign and ClearCorrect, use the same fundamental principles to straighten your teeth.
Once you've agreed to the treatment, your dentist will begin by taking impressions of your teeth, which allows the creation of custom aligner trays specifically fitted to your mouth. You'll exchange trays as your treatment progresses, each one bringing you closer to the perfect smile that is our end goal.
Invisalign trays should be worn between 20 and 22 hours a day, with breaks for eating and dental hygiene – and possibly for important business calls or meetings. Depending on which Invisalign service is recommended, the process will take fewer or more aligner trays, and more or less time. It breaks down like this:
Invisalign Express: 5-10 aligners switched every two weeks for an overall shorter treatment time
Invisalign Lite: Anywhere between 10-20 aligners over a longer period of time, often 3-5 months
Invisalign Moderate: 20-25 aligners depending on the patient's needs. Can take anywhere between 3-12 months.
Invisalign Severe: 25+ aligners to take your smile from zero to hero in as much time as is required. These plans are for severely misaligned teeth.
ClearCorrect treatment has only three options, and your dentist will be able to tell you which to expect based on your situation. These break down as follows:
Limited 6: Six clear aligners to straighten your smile in a short time-frame
Limited 12: 12 clear teeth aligners to move your teeth into position over a longer period of time
Unlimited: The necessary number of aligners recommended by your dentist to achieve a perfectly straight smile
With ClearCorrect, how frequently you switch aligners varies more. It depends on the speed of your progress, the state of your teeth, and how many aligners are used in the plan.
The shortest clear aligner treatments are around three months; more severe alignments may take six to twelve. It's very rare, though, for clear aligner treatment to last more than a year.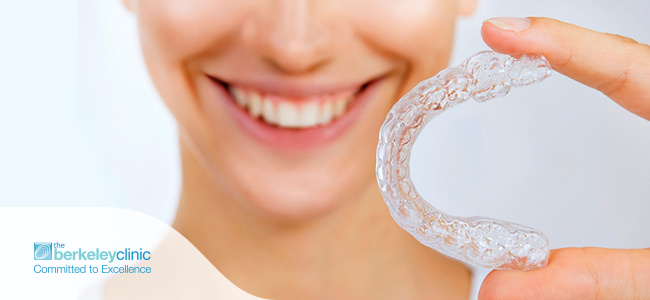 Clear Aligner Costs
There's no one flat cost for clear aligners in the UK. It all comes down to your plan and the expected treatment time.
The cost of ClearCorrect treatment tends to be slightly cheaper than Invisalign, with prices starting as low as £1200 and rising to around £4500.
Invisalign can cost anywhere between £1500 and £5000. At The Berkeley Clinic, our Invisalign treatment plans are priced at:
Invisalign Lite – From £2300
Invisalign Moderate – From £3800
Invisalign Severe – From £4990
Please bear in mind that prices can and do vary from patient to patient. The best way to receive an accurate estimate for the cost of your clear aligner treatment is to book in a free, no-obligation appointment with one of our dentists.
We also offer helpful dental finance plans to allow our patients to spread the cost of their clear orthodontic treatment.
We use advanced dental technology, working with the world-leading brands in teeth straightening, making our clinic the best place for Glaswegian patients looking to improve their smile. Our welcoming dentists will be more than happy to provide you with more information on all our orthodontic solutions and will give you an honest recommendation on the best clear aligner treatment for you based on your dental health and individual requirements.
Please get in touch today if you are interested in any of the clear teeth aligner options we offer, and together we can create the beautiful, straight smile you've always dreamed of.