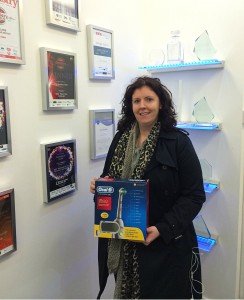 Like Our Twitter & Facebook Page
Thank you for participating in our social media competition where you could win Oral B electric toothbrushes worth £169.
We would like to congratulate Karen Paterson and Lisa McErlean for winning those fantastic prizes! We hope it will be extremely beneficial in your daily oral health routines.
Professional Care Triumph 5000 electric toothbrush uses the most advanced 3D technology to clean your teeth and is approved by the British Dental Health Foundation.
We would like to thank everyone who participated in our competition on Facebook. Keep checking our social media pages and participate in our debates and future competitions. We promise to give away brilliant prizes, promotions and offers. If you would like to find out more about cosmetic dentistry treatments visit Berkeley Clinic in Glasgow.
If you haven't liked our pages yet please visit Facebook , Twitter, Pinterest or Google+. Be sociable and keep sharing!
Tags: best dentist glasgow, Competition, dental competition, dentist award, Oral B, oral b 3d white review, oral b 600 3d clean, oral b d12, Oral B Electric Toothbrushes, oral b expert, oral b power brush, oral b triumph professional, social media, The Berkeley Clinic